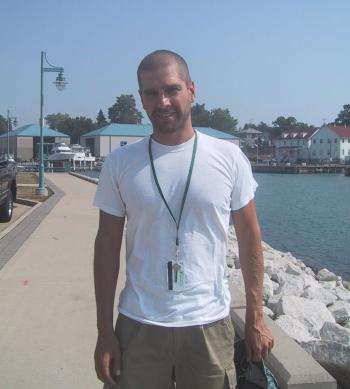 I always dreamed about having a really kitsch home page with all kinds of useless information you could ever imagine. This picture was taken in Winsconsin, during the 2003 IOI.
Just in case you are dying to know something about me, I shall say that I am 1.76 cm tall, I weight 75 Kg and wear glasses. I listen more or less to any kind of music, but my overall preference is always for the greatest master of the art of counterpoint, Johann Sebastian Bach (maybe because of the name?).
I like to play music, mainly piano and guitar. My preferred jazz pianists are Thelonious Monk and Keith Jarrett (yes, both of them). Currently I'm studying drums (rock & jazz).
I like to go to the movies rather frequently. Some of my preferred directors are, in no particular order: Stanley Kubrick, Woody Allen, Charlie Chaplin, David Cronenberg, John Carpenter, Ingmar Berman, Theodor Dreyer, David Griffith, Federico Fellini, Lars von Trier.
I like to cook and to eat, which is of course fairly common for an Italian. I tend to be rather voracious when eating (a picture is worth a thousand words).
Please write me if you found the ultimate interpretation of the refrain of R.E.M.'s "Sitting Still".
I like a lot to travel a lot [sic]. The following pictures were taken during various journeys made both for leisure and for work.